At the very core of it, businesses are very similar to sports teams. Business owners act like the coach, while employees are valuable team members. No single part of the team can win championships, and only through working together in harmony can you achieve success. As much as you know how to achieve business success, you cannot do it alone. Like coaches, business owners should have the ability to develop talent that could help achieve business goals.
Employee development practices are a way to develop and grow your employees to become more efficient and productive. Through programs and training, employees could enhance their skills and get better at their roles in the company. Taking care of your employees also increases the likelihood that they perform beyond expectations, which will only add more value. So while it is a long-term initiative for any company, the rewards of employee development could deem instrumental in bringing your business to the next level.
It's important to note that your employee's growth is as good as yours, so take that in mind when considering what kind of training or programs you want to make available to them. Here are some ways you could promote employee development in your company.
Invest in Your Employees
Investing in the professional training of your employees from day one provides the best start possible. Familiarizing them with how your business operates gives them a clear picture of their roles in the company and where they can contribute the most. It's best to establish a thorough training plan that includes all information about your business and how it functions. Sometimes, those investments are already part of the employee's plans.
You could also invest in your employees through academic sponsorships. By sponsoring academic endeavors such as a doctorate in business administration, you could develop select employees into reliable leaders in the company. With their newly acquired knowledge, they could then transfer these methods onto the rest of your employees, further raising the caliber of your entire workforce.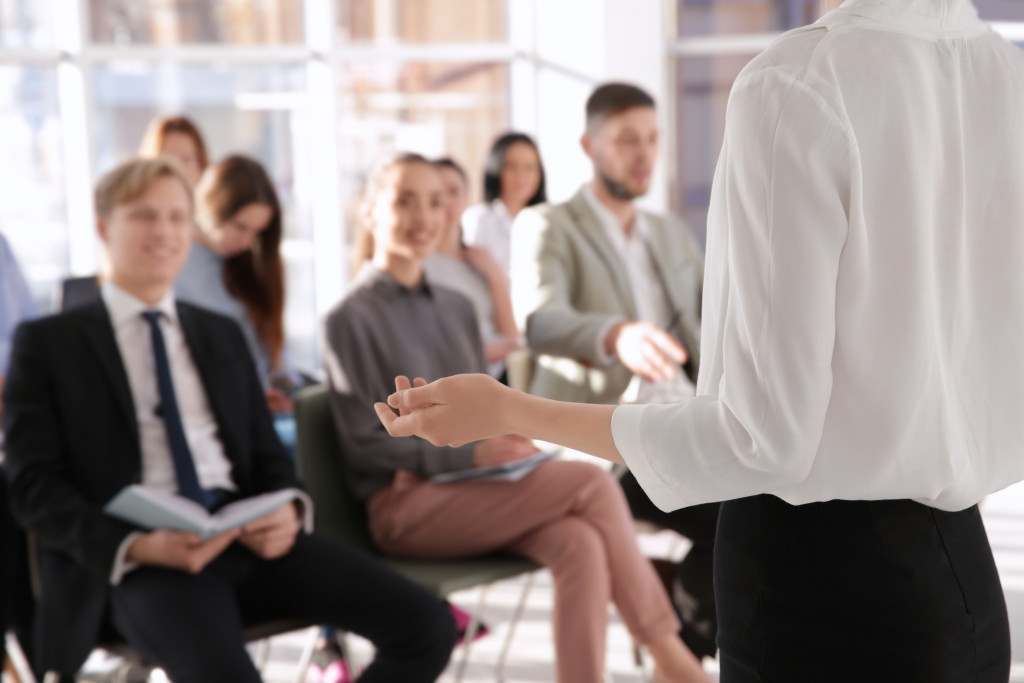 Create Avenues for Holistic Development
Business owners must not forget that employees do not solely exist to serve their companies. Employees are human beings, and each of them has a far greater purpose aside from work. Your approach to employee development should not just revolve around their professional growth but should also cover their personal growth. Additionally, their development must be holistic for it to be sustainable and attainable. This approach in employee growth should include the following:
Physical Activity. Incorporating physical activity and proper ergonomics daily in the office helps employees give importance to self-care. Promoting these activities lets your employees know that their output is not the only thing your company cares about and that you also care about them as people.
Mental Health and Wellness. Recently, the world shifted to focus on mental health and wellness, and rightly so. Check up on your employees by hearing them out and asking them about their struggles at work. That level of care makes your employees feel heard, valued, and acknowledged, contributing to their mood and mental health. The office should be a safe space for your employees to feel their best and produce their best. Employee engagement efforts can also provide them with the necessary change of pace whenever they are in the office, making them feel like the company is not all about work.
Educational Growth. Your employee development programs and training shouldn't always concern business practices. Find ways to help them learn practical skills that they could apply in their everyday lives. Cooking or arts and crafts are among the programs you can provide for employees. It provides a fun break from the more analytical nature of business-related courses.
Develop Soft Skills
Unfortunately, companies focus more on the tangible outputs employees could provide, often leaving soft skills overlooked. But soft skills are vital skills in creating harmonious environments in the office. Communication, collaboration, and people skills are essential for workers. These skills give employees the ability to collaborate and convey concepts or ideas to all levels of an organization. These abilities could be catalysts in the transformative growth of any business.
When you give employees the opportunities to grow, the necessary tools to execute tasks, and a conducive environment to do both, they will feel motivated to get more done. It gives you the status of a company that values its employees. It's a company trait that every job hunter looks for, which increases the likelihood of top talents finding you instead of you looking for them. Taking care of employees can bring to the table has advantages, companies should know that. But most importantly, it is just the right thing to do.