Improving factory floor efficiencies is important in today's competitive manufacturing industry. The factory floor is one of the messiest and chaotic places in a manufacturing facility. In a typical factory, overcrowded cabinets, improperly labeled storage areas, and disorganized shelf displays can make it difficult to keep everything in order. Meanwhile, biotech and pharm facilities take critical steps to maintain their purity and safety standards by using pharmaceutical epoxy flooring and following sanitation practices.
In this article, we'll talk about ways on how to maximize the floor space of your manufacturing facility. The strategies below will give you an idea of how to keep your factory's productivity to the next level.
Revisit the floor layout
The current layout may have worked well on your factory several years ago, but as your business continues to grow, it's important to think about whether the layout is still a great fit for the current facility operations as well as its future needs.
As your company goes through plenty of changes some parts of your factory may no longer meet the increasing demands of your day-to-day operations. Failure to recognize these things can adversely affect the efficiency and quality of your manufacturing processes. These can even lead to injuries, equipment malfunction, and process failures.
Facility managers should revisit the factory floor layout to find out if there are areas to be improved and necessary parts to eliminate. Check which parts of the current processes are causing delays and bottlenecks and consult workers about their frustrations and experiences. After gathering information, you can make adjustments to the floor space to improve workflow.
When redesigning the factory layout, keep in mind that certain tools should have a designated storage area so workers can easily access them when needed. You may also involve other relevant departments to ensure the flow paths of materials and functions remain interconnected.
Reclaim unused storage space
When it comes to planning the storage space of your warehouse, it's not just about the amount of extra space in the facility, but how you optimize the floor space. Reclaim factory space by organizing a general clean-up to remove all unnecessary clutter, such as scrap metal, gravel, dirt, empty containers, plastic waste, and other types of factory waste.
Inventory optimization helps in the proper management of stocking materials and the reduction of excess stocks and stock-outs. Excess stocks place additional pressure on the facility while leftovers of the wrong stocks cause misuse of storage space and bottom-line losses.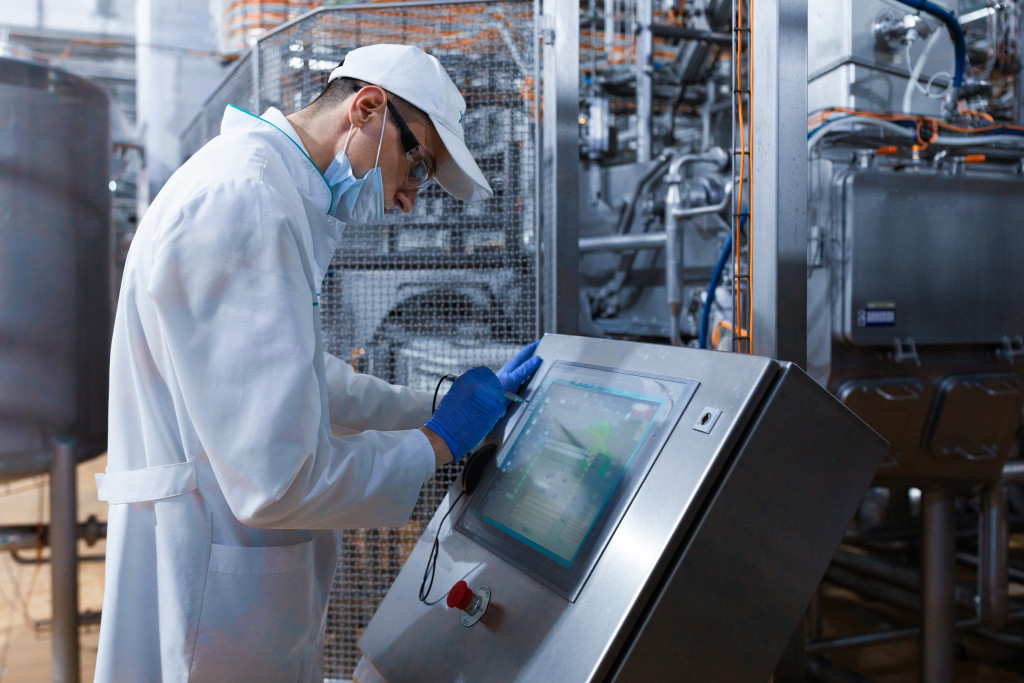 Digitize information
Besides data inventory, it's important to digitize all factory-related information so everyone on the shop floor can access them when needed. Data management platforms are very powerful when it comes to cutting down work time by creating automatic reports and automating manual tasks, helping you develop a better insight when improving operations.
Once you have digitized data, you can take advantage of other data management and processing systems to streamline tasks on the factory floor. For example, providing employees with cloud computing programs allows them to synchronize communication without directly calling the manufacturing floor.
The best data management platform should be customized and specifically designed for your industry to suit your needs and other factory requirements. The right software will help generate reports and automate a variety of tasks to further optimize factory performance.
Build your employees' strengths
The performance of your manufacturing facility depends on how your employees are using the shop floor, particularly in handling equipment and carrying out daily operations. In this case, you have to ensure they are trained well to take over the facility.
If you're the warehouse manager, take time to share your knowledge with the factory staff. Start by teaching the basics of your expertise by conducting factory training regularly. This will help in upskilling and reskilling employees and introduce various tech developments in the manufacturing industry. There's no need to give them assignments, just provide them hands-on experience and bite-sized information, so they can keep pace with the changing industry.
During meetings, invite employees from other departments to stay up-to-date with the latest developments on the factory floor. Additional heads can also promote a more diverse discussion. More importantly, the HR staff should also be involved in all activities that take place on the shop floor. This will make sure everyone is safe and their wellbeing is cared for.
Taking the initiative to improve the manufacturing floor can be stressful and challenging, but it will certainly pay off in terms of saving money, avoiding injuries, and increasing efficiency. Not only that, but you're also doing something to help your company thrive in the future.